What is the Digital Transformation Strategy and Framework?
October 7, 2022
The term "digital transformation" refers to the use of technology to transform business processes, products, services, and/or customer experiences. Digital transformation strategies are often associated with the concept of Industry 4.0, which is a set of technologies that enable companies to automate their operations and connect their systems to each other. These technologies allow businesses to collect data about their customers, employees, and suppliers, analyze it, and make decisions based on it.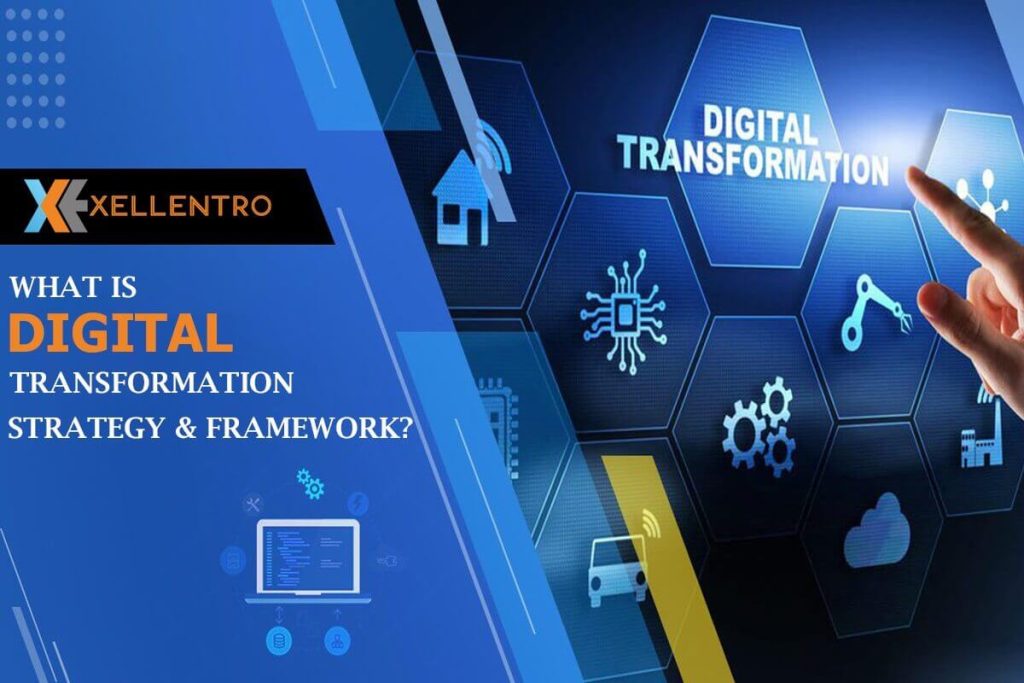 A digital transformation strategy is a plan that outlines how a company intends to implement these technologies and what they hope to achieve. A digital transformation framework is a set of tools that help organizations develop and execute a digital transformation strategy.
Digital Transformation Strategies
There are three types of digital transformation strategies:
Business-focused digital transformation strategies focus on the core business processes and products of an organization. These strategies aim to improve the efficiency of existing business processes, increase revenue, reduce costs, and enhance customer experience.
Product-focused digital transformation strategies target specific product offerings. These strategies attempt to improve the quality of existing products, create new products, and expand the market reach of existing products.
Service-oriented digital transformation strategies focus on enhancing the customer experience. These strategies aim to provide personalized service to customers, improve customer satisfaction, and increase loyalty.
Digital Transformation Frameworks
Digital transformation frameworks consist of four components:
Technology vision – A digital transformation strategy should have a clear vision of where the organization wants to go. This vision should be communicated throughout the organization to ensure everyone understands the goals of the digital transformation.
Roadmap – A roadmap shows the steps necessary to get from point A (where the organization currently stands) to point B (the desired future state).
Implementation plan – An implementation plan details the actions that need to occur to move the organization from point A to point B.
Governance plan – A governance plan ensures that the organization stays on track and makes sure nothing gets lost along the way.
A digital transformation strategy is a thorough plan for utilizing digital tools to enhance a company's physical operations in engineering, manufacturing, and service. The integration of digital technology across all functions of an organization is what "digital transformation" basically is, and it significantly alters how you do business and provides value to consumers. Additionally, it is a cultural shift that necessitates constant status quo challenge, experimentation, and acceptance of failure on the part of organizations.
Why is digital transformation strategy important for any organization?
In today's world, customers expect companies to provide them with a seamless experience across different channels. Companies need to transform themselves digitally to stay competitive and attract new customers. With Digital transformation, businesses are adapting their business models to align with the changing customer expectations.
Digital Transformation Strategy is a strategic plan that helps organizations to transform their business model and achieve competitive advantage. This is a comprehensive approach that includes technology-enabled business models, processes, people, and culture.
A well-defined Digital Transformation Strategy should be able to:
Define the vision, mission, and values of the organization
Identify the core competencies of the organization
Develop a roadmap for achieving the vision, mission, values, and core competencies
Create a framework for evaluating performance
Establish a governance structure
Ensure alignment across the organization
Provide a platform for continuous improvement
Enable innovation
Drive operational excellence
Build trust
Enhance customer experience
Improve employee engagement
In the present information era, information and data have evolved into the primary sources of income, corporate assets, and vital drivers. Companies must develop a consistent digital transformation strategy that takes into account data, processes, information, technology, human factors and many other factors, if they are to benefit from these new digital technologies.
How to Develop a Proper Digital Transformation Strategy?
It can be done in the following ways:
Business Evaluation
An honest and thorough evaluation of your company's existing situation is the first step in any successful digital transition. Your strategic business goals, possible growth prospects, and key performance indicators should all be evaluated in this thorough examination.
Research Your Market and Recognize Your Rivals
It is critical to comprehend the workings of your industry and research your primary competitors after carefully evaluating the situation of your company today.
Develop an execution strategy
Each business innovation, project, resource needs, and criteria for results access and evaluation should have a defined path in your delivery strategy. Determine the necessary development processes before beginning the stage of development in order to create standard operating procedures for the advancement of your company.
Make a proper budget plan
Insufficient funding is one of the key causes of most digital transformation efforts falling flat. While preparing your budget, be sure to account for unanticipated circumstances and make contingency plans for the day when the existing investment becomes obsolete due to new technologies.
Make a practical plan
You also need to consider other aspects of your business and other areas of expenditure, outside the realm of technology. Assemble a group of like-minded workers with appropriate skill set who will cooperate with your overarching objectives, in order to produce the needed results. Make a thorough evaluation of your existing personnel and the skills required to put your digital ideas into practice.
What is the Importance of a Digital Transformation Framework?
Digital Transformation Frameworks are crucial for 21st century enterprises since they offer a plan for assisting firms in surviving upheaval by adjusting to modern technologies. Disruption is characterized by outside developments that threaten to alter how certain sectors operate.
Many businesses employ a data-driven framework for digital transformation to assess opportunities, design a growth strategy based on facts, and provide a workable action plan. When it comes to repositioning an organization in the digital economy, a digital transformation framework is utilized to build a repeatable system of diagnosis, strategic planning, and implementation. It helps in getting better control over the digital transformation of businesses.
A proper digital transformation framework maintains focus on the important things, such as:
Customer value,
Market position, and
Market competition.
Frameworks for digital transformation are crucial for today's enterprises since they offer a plan for assisting firms in surviving upheaval by adjusting to modern technologies. Disruption is the rise of outside developments that threaten to alter how certain sectors operate. For instance, the development of long-haul trucks severely affected the railroad sector, the introduction of the automobile severely disrupted the horse-and-buggy economy, and streaming video has seriously impacted the movie theatre industry.
The best digital transformation framework for your business is one that finds a balance between being adaptive to your particular organization while also being divided into manageable, logical steps – the development of which can be tracked easily.
Features of a Good Digital Transformation Framework
These are a few of the advantages of a good digital transformation framework:
Boosts performance to ensure consistency and efficiency
Enhances business operations
Boosts labor force output
Provides for ongoing contact between all business areas
Meets the expectations of the client
Develops effective business strategies
While choosing a digital transformation framework, these are some of the features to look for:
A set of objectives
Make sure that objectives of the transformation strategy are both long-term and immediate. There is a lot to do, so it is best to take things slowly.
A team for digital transformation
Since digital transformation is such a large project, it is best to have a team that is solely focused on it. A team, when cross-functional, helps a business embrace new operating models and navigate the digitization process. The transformation team may be made up of internal staff members or external consultants.
Ability to analyze the present working models
The easiest way to comprehend how digitization can benefit your business is to become familiar with the ways that things are currently done. Identify the processes in the current workflow, and then break each one down to evaluate how software and digitalization may make it better.
Ability to create roadmap and timesheet with KPIs (Key Performance Indicators)
A detailed timeline with precise deadlines is necessary for this step. KPIs can be used to monitor performance. A roadmap can also mention the software that the business will require, which departments will receive it, how the apps communicate with one another, the appearance of the new data structure etc.
There are many distinct types of frameworks to pick from, and each one offers a different strategy for digital transformation. Frameworks for digital transformation promote digital adoption, which aids organizations in addressing difficulties with IT including cloud computing, large data flows, and a variety of endpoints (e.g. tablets, smartphones, laptops, older desktops).
Conclusion
Every company or organization needs to implement one or two digital transformation strategies if they want to succeed in the digital world. It is possible to boost sales and revenue while also improving client experience by utilizing the right tactics. Actionable intelligence, robust digital transformation framework and strong digital transformation strategy are the new currencies in an economic era where industries are constantly changing.
Learn digital transformation at Xellentro
WANT TO JOIN THE CLASSES?
Contact on the given details